Thursday, February 25, 2010 Day 4 in LSC

Today is buzier and happier =D Mr Loh & Mr Goh went training for the whole day so nobody's observing the lab techs working. All of them seems more relaxed and i joined in for some conversation too! ^^ Start to get to know more with some of them and will try to know all of them asap. hahahah

Learnt another manual test,

Troponin T

. It's to detect cardiac diseases and the test is quite simple. All depends on machine basically, just add in the sample, follow the instructions with a few clicks and done (: and also done one neonatal bilirubin test too! I've encountered almost all manual tests except chingunnya IgM dont blame me for spelling mistakes, having bad memory nowadays.

My job now is basically spin the sample in the centrifuge, take it out, put into respective machines/perform manual tests and collect the results to clip with the patient's details.

Did lesser mistakes =D



Canteen is giving out free bobo chacha for all the workers in the hospital, I had one too! Two of the lab techs laosai-ed after lunch hour and luckily im safe. Phew~ ;P

Basically that's what im doing everyday and started to enjoy it ^^ Still have

phobia over stud

y

so prefer intern now hahaha =) fyi, i know how to walk to the toilets already!!!! *claps* fuyoh im clever~ LOL

Blogspot still doesn't allow me to post photos, not even one! sighhh~
back to my series then, buhbyez :D



OMG RESULT WILL BE OUT ON TUES HOW HOW HOW HOW HOW HOW HOWWWW?!

Labels: college, internship

2 Comments







Wednesday, February 24, 2010 Day in LSC day 3

Day 3

did

TWO

mistakes today! grrrrrr not gonna mention what's that but super paise! It's even more embarassing and guilty when people do not put the blame on you/scold you.. haihz im so sorry for being such a coward~ T_____T Anyway, big thanks to Ai Lien & Mr Goh =)

Got to chat with a little bit more people around! big improvement xD but still, dare not to join in their conversation too much. And and.... Ming Choo said im shy!!!!!!!!!!!!!! omg it's like the first or second time ppl saying me that when they first know me ;P Other than that, the first impression is always fierce

fierce

fierce

o.O

Not much for today, just repeating yesterday's procedures and make more mistakes =/ Got to know one more manual test, but sudah forgot =.= oh and the clotting factor test APT and APTT i think ahahahhaha tarak guna la me =(

one more day to long weekend! yuhuuuuuuuuu~

i need to start doing my FYP during the long weekend instead on keep wandering around the net/play games/fb/blogging *knock knock*

Labels: college, internship

0 Comments







Life in LSC day 2

Day 2 (23/2)

Reach at 9.00am sharp in the lab with the guidance from rou. yupp,

i dont even know how to go to the toilet after renovation started in the old wing

. will try to rmb it tmr HAHA.

hmmph time passes faster for today as i have something to do =) Phaik Tin is back from her leave. She's the one in charge for the section im in for this month i guess. Briefed me about the machines and tests again to refresh my memory and she allowed me to do Glucose Tolerance Test (GTT)! Actually it's just mixing the serum of the patient with HbA1c the reagent if im not mistaken with the reagent, it means alot to me! It's my first try to get involved and actually contributing to the lab xD The feeling of accomplishment is awesomee~ Started to collect the tubes after the tests, group the patient's results and doing some basic not-so-important things. Still, it makes me feel much more happier as i have the chance to help and do not cause any trouble

yet

to them LOL

Tried to give all of the lab technologists a helping hand whenever they're busy for the whole day. Done some paper work, seached twice or 3 times? for the lab phone, listened to the discussion about methods to detect tuberculosis (TB) & prepared one whole rack of HbAc1! hahahahah and was super kin cheong when Mr Loh stopped by to see me pipetting =.= luckily it does not have any bubbles/spaces~ phewwww

ohhhhh and we're allowed to wear long jeans with tee to work! great, no more wasting money for formal wears. broke broke brokeeeee!

Will try to talk to more people tmr, must not be coward d me!!! ;P

fyi, my cny post is gonna take a longgggg time because uploading ALL the photos takes AGES!
Hate slow connection =( and i dont get to online & drama & fb often =_________=

AND

I HAVEN'T START MY FYP PROPOSAL!!!

!!

omg. wayyy behind my own schedule due to my ultimate laziness.

oh, and friday is public holiday! =DDDD Looking forward for the 3 senang days already! muahahaa

Labels: internship

0 Comments







Tuesday, February 23, 2010 Life in LSC day 1

Day 1 (22/2)

Rou & I reached half an hour earlier to the hospital, waited for the HR leng lui to register us. Gave us a name tag & card for food discount, guided by another experienced trainee to the main laboratory =)

Am super nervous and sweating like hell when I first reached. Everyone seemed to be busy and professional! Got into the lab manager, Mr Loh's room for a brief introduction and explanation session, left us a laboratory guidelines to read and he rushed back to the lab. According to other lab technologists, monday is usually pretty busy as lesser people worked during weekends. While reading the guidelines, we were like ooppsssy this wrong that wrong! Turn out we have totally wrong perception on the working environment, tsk tskkk. No makeup, preferable no contact lenses, long pants, closed-toe shoes and yada yada all the laboratory rules. omg so strict! T__T

Mr Loh came in afterwards, explained a little bit more about the laboratory procedures. Put on lab coats and we're allowed to move around the lab with proper attire. There are 5 sections (if im not mistaken) in the lab and we'll be in each section for two weeks. Im in the Chemistry and Sero-immunology section while Rou's in Blood Bank. Sounds proooo, likeyyy =D Everyone was pretty busy so i dare not to interrupt them, just standing beside to observe the way they conduct the tests. The lab technologist in the section today is Chai Hoon who looks 70% like Kee May!! xD Later on, Mr Loh gave me a whole stack of "notes" about the two BIG machines in the section. Browsed through 5 mins, blanked 5 mins and it went on for

2 hours

? lol yawned for dunno how many time -.-

Finally I took up the courage to talk to CH and she explained about the two machines and the routine work in the section. Demonstrated dengue test since there's a test order for that =) alot more explanations on the reagents used for the machines, purposes for the test, hw to put the tube in the machines etc etc.



Day 1 is just waiting for the clock strikes 530pm and yeshhhhh bye bye! xD



Mango jie texted be the day before just to emphasize one major problem of me,

TOO FIERCE

>.<

"

SMILE AR TING RMB SMILE!

" sudah tattoo-ed in my mind o.O

Labels: internship

0 Comments







Thursday, February 11, 2010 小小彬
They're all scenes from Autumn Concerto aka 下一站幸福(:
米修米修 Cute signals sent by XiaoLe to his dad
光晞爸爸和小乐初次见面 6-year-old XiaoLe first met his dad GuangXi
床边故事 Bedtime Story
ps: This video summarizes quite alot from the drama. I insist you to finish it k? It's a great one! =)

凸槌片段 NG Scenes
My personal favourite!
MUST WATCH
aite?
喜欢慕橙吗? Adorable XiaoLe cheers his dad up =D
These clips cheer me up all the time ;P
Hope they bring the same effect to all of you~
Kiong Hee Huat Cai, enjoy the year of Tiger to the fullest!
ROAR~
0 Comments
Tuesday, February 9, 2010 ka chiakkk
all my split ends gone! (:
yipieeee new style for a better year ahead!
side look, a little more volume than before.
It's the first time i chop off my hair since i left high school, not trim it but cut it OFF. Heart doesn't ache like I thought when I saw my long spoilt hair being swept away.. hahahaha!

HELLO TO HEALTHY SHORT HAIR! =)
and happy cny to everyone
❤
Labels: life
4 Comments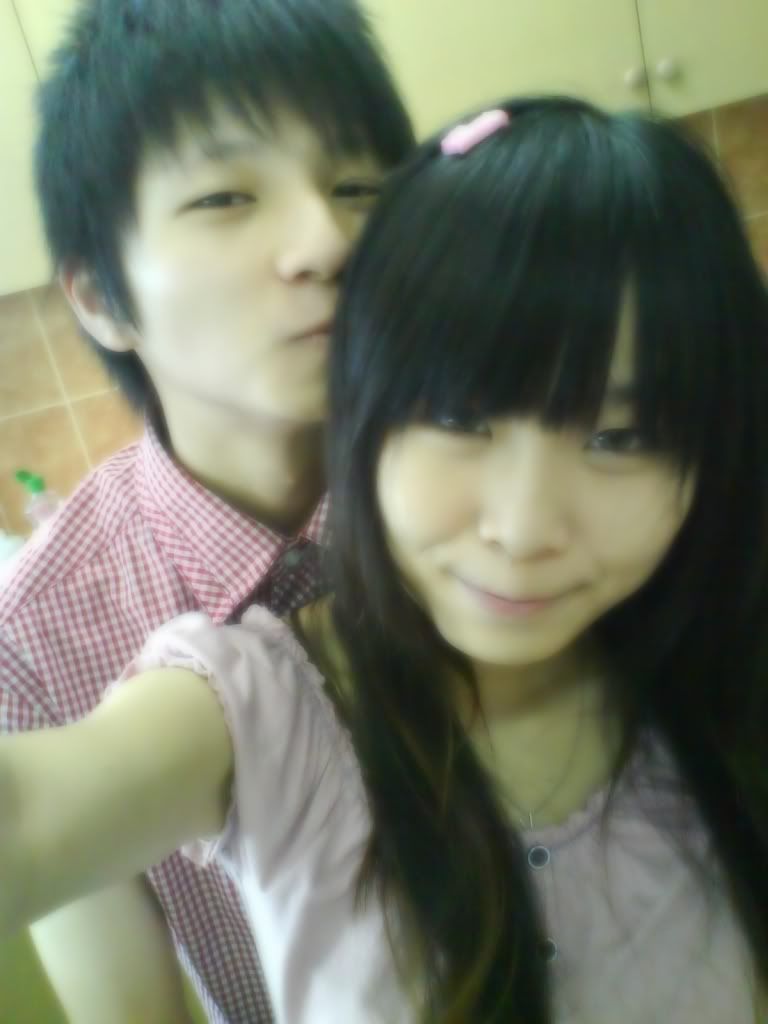 •*¨*•.¸¸Poh¸¸.•*¨*•
Sensitive, sentimental at times. Dreamy & enjoy life to the max!~
•*¨*•.¸¸Ting¸¸.•*¨*•
an aries penang babe with attitude! simple life full of excitement. hearts dear & friends & family. alive, GLAMOROUS and that's me (:
Jeffrey Ooi
Create Your Badge
Lee Wan Ting
Create Your Badge
ShoutMix chat widget
March 2008
April 2008
May 2008
June 2008
July 2008
August 2008
September 2008
October 2008
November 2008
December 2008
January 2009
February 2009
March 2009
April 2009
May 2009
June 2009
July 2009
August 2009
September 2009
October 2009
November 2009
December 2009
January 2010
February 2010
March 2010
April 2010
May 2010
June 2010
July 2010
August 2010
September 2010
October 2010
November 2010
December 2010
January 2011
August 2011
September 2011
November 2011
January 2012
March 2012
August 2012
February 2013
Andrea
Apple
Boney
Boon Hwee
Chew Chung
Ecery
Eric
Evelyn
Evonne
Huan
Huan Sheng
Hui Mei
Jiao
Joey
Juanita
Kar Hong
Kar Yin
May Yee
Mei Fang
Michelle
Mincci
Phei San
Rebecca
Shi Ying
Shuang
Spirit
Sweeli
Tee Yee
Ting
Wen Zhong
Ying Xuan
Zhen Hao
Zhi Ying